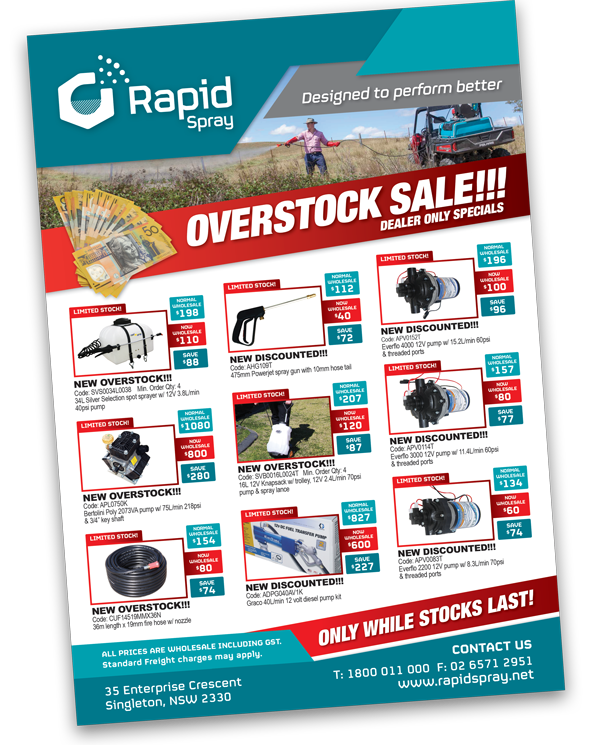 Now in its 69th Issue, the True Blue is as significant to Rapid Spray as vegemite is to most Australians.
In this END OF FINANCIAL YEAR edition, we have great deals and upgrade offers on:
FIELD SPRAYERS
Some of Australia's most popular field sprayers are Rapid Spray models, and for a good reason. Heavy Duty Hot-dip galvanised steel frames and tough poly tanks with a 10 year warranty mean Rapid Spray field sprayers are built to last.
Being offered this month with some fantastic budget priced upgrades, the field sprayer range has a model to fit your requirement.
Check out the 'Field Sprayer' VIDEO below including the awesome 'Buddy' remote controlled auto hose reel:
DIESEL REFUELLING EQUIPMENT
On offer are some fantastic deals on diesel refuelling trailers, Active Diesel tanks and 'Genius' diesel fuelling tanks. ALL tanks & trailers this month come with a bonus FREE DIGITAL FLOWMETER – worth $356 RRP!
Check out the VIDEO below to see why more Australian's have chosen Rapid Spray's Genius Diesel Refuelling tank this year than ever before!
FIRE RANGER TRAILERS
Do you realise that a Fire Ranger trailer can add enhanced protection for your property and family and be eligible for an immediate depreciation write-off if you meet the government criteria?
CLICK HERE – to view Rapid Spray's range of Fire Trailers
CLICK HERE – to read about the Governments $20k immediate depreciation write-off offer
AQUA-V WATER TRANSPORT TANKS
Aqua-V water transport tanks are becoming the Poly Transport Tank of choice for water carters and construction companies Australia wide.
Their proven designs, 10 year warranty and UV blocking 'OPAQUE' Teal colour make them one of the most durable and cost effective on the market.
Check out the VIDEO below to see why TWS WaterCart Hire's director Billy Bastien continues to chose Rapid Spray tanks for his water cartage fleet.