20L RAPIDLINE TROLLEY SPRAYER
OPERATOR'S HANDBOOK
SPOT RANGER
OPERATOR'S HANDBOOK
BOOMLESS SPRAY KIT
OPERATOR'S HANDBOOK
MARSHAL PRO
OPERATOR'S HANDBOOK
45L CHAPIN TROLLEY SPRAYER
OPERATOR'S HANDBOOK
RAPIDLINE SPOT SPRAYERS
OPERATOR'S HANDBOOK
MARSHAL-Q
OPERATOR'S HANDBOOK
FIELDLINK
OPERATOR'S HANDBOOK
RAPIDMIX SPOT SPRAYERS
OPERATOR'S HANDBOOK
BOOM SPRAY KIT
OPERATOR'S HANDBOOK
MARSHAL PLUS
OPERATOR'S HANDBOOK
FLAT FOLD STEEL BOOM
ASSEMBLY HANDBOOK
CARTAGE TANKS
OPERATOR'S HANDBOOK
SPRAY TANKS
OPERATOR'S HANDBOOK
BALL BAFFLES
OPERATOR'S HANDBOOK
ACTIVE DIESEL TANK
OPERATOR'S HANDBOOK
FIRESCOUT
OPERATOR'S HANDBOOK
FIRE RANGER
OPERATOR'S HANDBOOK
Thank you for your purchase of a Rapid Spray product! 
As we say, the Proof is in the Performance and trust your unit gives you years of service and satisfaction, and with industry leading warranties and quality management, your product is built to perform better in the field everyday. 
The Rapid Spray Warranty Policy is outlined below is the only warranty applicable to Rapid Spray products, and to the maximum extent permitted by law, overrides any other conditions or warranties expressed or implied on our products. 
Please download our full Warranty Policy which is also listed in the operators handbook of your Rapid Spray unit. 
All products sold by RAPID SPRAY are guaranteed to be free from defect in materials workmanship or manufacture for a period of 12 months from the initial date of purchase, excepting the following exclusions; 
Any  parts/products found by RAPID SPRAY to be defective, either in material or workmanship will be replaced or repaired within this period, at no cost to the initial purchaser if following conditions are met:
The item has been operated in accordance with all instructions and warnings provided
Item is still owned and operated by original purchaser – proof of purchase is required to obtain warranty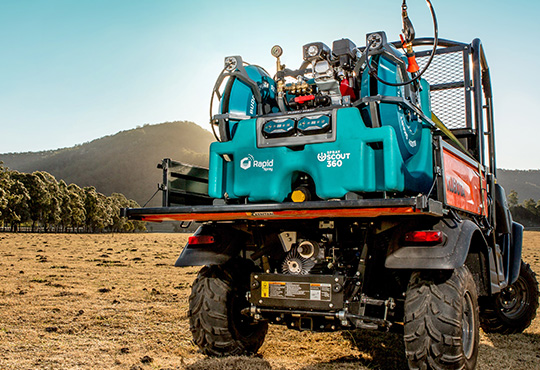 We would love to hear from you!
At Rapid Spray we love receiving feedback and how we can use this feedback to improve our products and service.
You can leave us a review on Google or Facebook via the below links. Alternatively, complete the below form to submit your review or feedback.