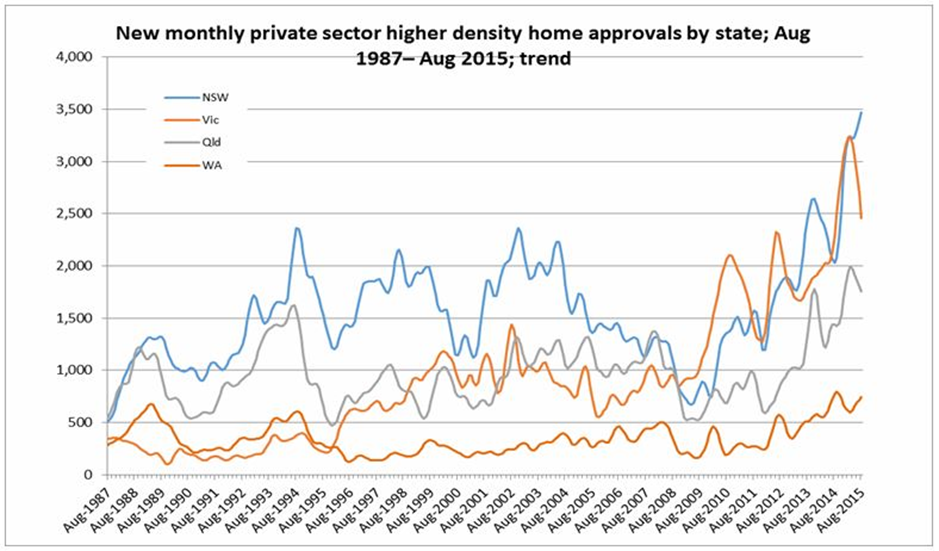 Despite statistics that show the Australian property construction boom levelling off, the number of apartment buildings approved in New South Wales has reached a record high. Overall, home approvals in Australia have fallen, but New South Wales is still going strong and offering a multitude of new project opportunities to construction firms in the state.
The state of Victoria recently held the title for the number of home approvals with 5,211 in trend terms, but has now been overtaken by a strong performance in New South Wales which recently saw the figure reaching 5,794 in approvals.
High density apartments are quickly becoming the dominant type of housing, especially in our cities and urban environments. Demand for such properties continues to rise steadily as current city dwellers seek to upgrade their current accomodation or families and individuals move into the cities from more rural areas. There were 9,158 apartments approved in August across Australia, only just behind the 9,562 house approvals.
Housing construction in NSW is now being driven by apartments with house approvals at 2,327 in August well below apartments at 3,467. To continue this trend will require strong support for urban infill projects in Sydney by the soon to be formed Greater Sydney Commission.
The graph below shows the ABS figures on New Monthly private sector higher density home approvals by state.
This increase in apartment approvals in New South Wales is welcomed by construction companies as it opens up a variety of new opportunities, especially in Sydney and the greater Sydney areas. However, when working in built up areas civil and construction firms need to be pro-active in their approach to dealing with unhealthy dust levels when carrying out construction works in built up areas.
Policies governing works in such areas can be strict, and as part of many tendering processes construction firms are often asked how they will minimise the impact of dust on existing residents whilst also completing the project within specified timescales.
This poses a significant problem for many contractors, who have limited space in which to bring in equipment in urban areas.
The 2000L AquaMax water delivery unit is a multi-use unit ideal for dust suppression, fire-fighting, tree watering and any other task that requires large volumes of water.
This sturdy unit is a combination of a sturdy poly tank mounted upon a heavy duty hot dip galvanized steel frame with forklift points to ensure easy transference from vehicle to vehicle. The dust suppression deflectors are an effective tool in helping keep dust pollution down to an acceptable level in built up areas and these units can be manufactured to exacting specifications and include additional hose reels for tree watering and fire-fighting.
The AquaMax also comes in handy for equipment wash down, freeing excavators and trucks from build ups of dust after the working day.
Available in sizes up to 15,000L and with a range of pumps to choose from, the AquaMax can be tailored to the needs of any construction or civil contractor. Click here to find out more or call Rapid Spray today on 1800 011 000 to discuss your needs.