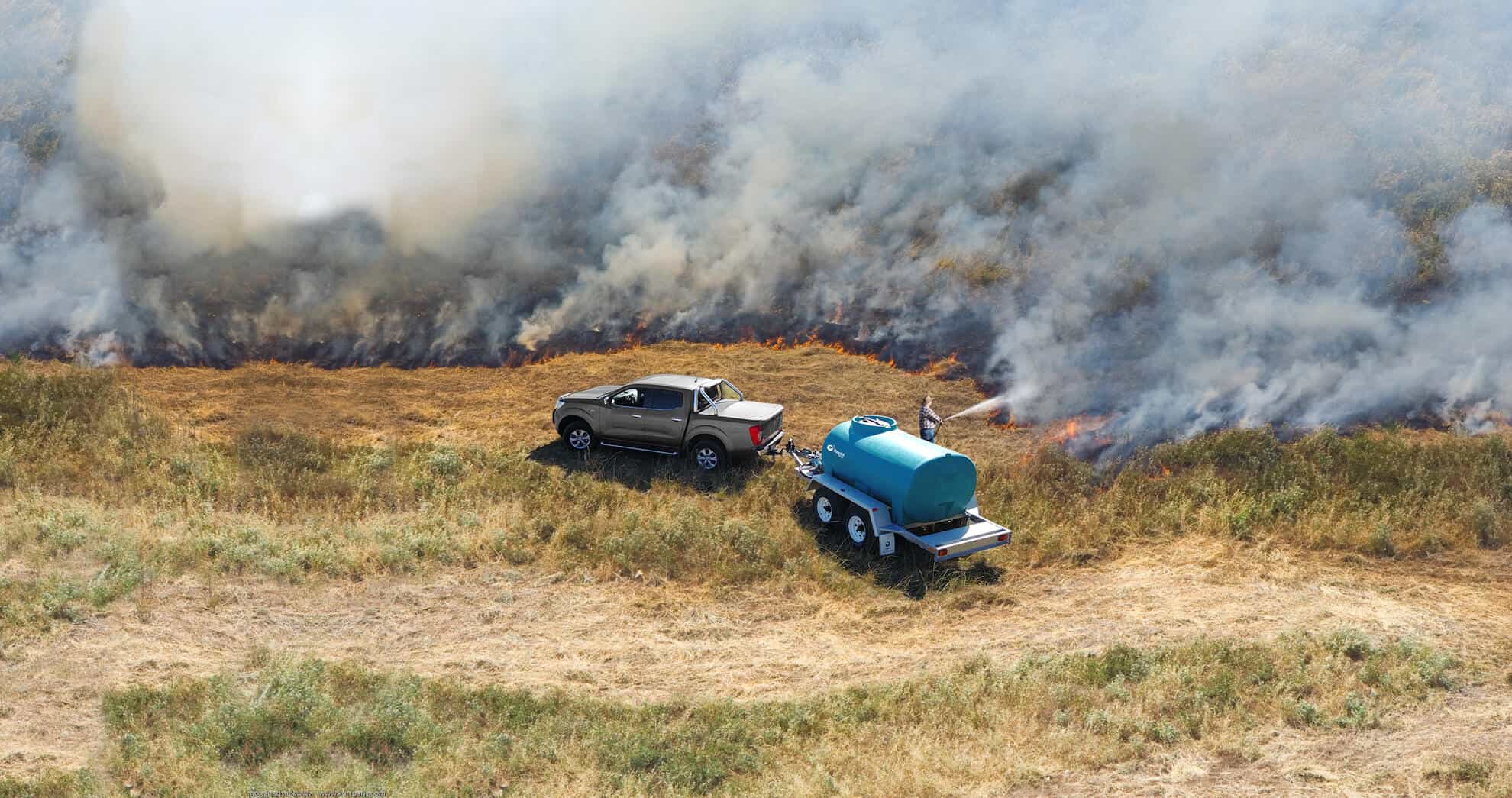 With summer comes the dangers of fire season. Due to the unpredictable nature of fires and their ability to change speed and direction at any time, being able to quickly and efficiently protect your property is a must. At Rapid Spray, we've designed and manufactured a wide range of rural fire fighting equipment to ensure your property and family have the best protection possible this fire season.
FIRE FIGHTING UNITS 
Our range of fire fighting units are designed to offer a portable defence against fires . With various models available to attach to utes, UTV's, and trucks, these units provide a compact fire defence tool in emergencies where every second counts.
Available in various tank sizes (250L to 2500L depending on the model), our tanks have a low centre of gravity to prevent surges and imbalance on your vehicle which is key when tackling rough terrain. With a powerful Honda engine that works on the first pull every time and is backed by a high flow (490L/min) pump, our fire fighting units will guarantee the flow and distance you need to defend yourself against fire while also maintaining a safe distance.
Each of the below fire fighting unit models offer different features and are suited to varying applications.
FIRE FIGHTING TRAILERS 
Offering hitch-and-go convenience, our range of fire fighting trailers have been designed to provide adequate water supply in areas lacking water levels to fight fires. These trailers aim to help you effectively and efficiently put out grass fires and bushfires with a robust design.
Our trailers come in different sizes to accommodate different amounts of water. From 1000 litres to 3000 litres, all our trailers are equipped with the necessary mobility systems for easy transport in defence of your property.
Each unit is equipped with a locking system that will prevent it from unlatching in even the roughest terrain and can easily be attached to utes and other vehicles. These units' compact and functional design also works to ensure that they are ready in any emergency.
The Fire Marshal and Fire Range Trailers are available to either be road registered or driven purely off road or on farm.
 These versatile trailers are also ideal for use for tree watering, stock water transfer and cleaning tasks – you will find an application for your fire trailer all year round!
FIRE FIGHTING PUMPS AND HOSE KITS 
Our range of fire fighting pump and hose kits work functionally to transport and use water from dams and tanks. Available with a pump, motor, hose reel with adjustable firefighting nozzle, fittings and a suction hose, these kits offer a portable system to quickly pump water through your hose to areas affected by the fire.
We have a range of kits available for your specific use and property defence needs. There are a number of motor options also, all are coupled with a 2 inch 490L/min Aussie FireChief Pump:
FIRE FIGHTING PARTS AND ACCESSORIES
Rapid Spray also offers a number of Fire Fighting Parts and Accessories including:
CHOOSE THE BEST FIRE FIGHTING EQUIPMENT 
Our rural fire fighting equipment provides a quick and easy solution to extinguishing fires, offering a rapid response action in these emergency cases. If you need functional and efficient tools to protect your property from fire, our fire fighting equipment provides an initial response to save you and your land.
To browse our range of fire fighting equipment, browse our website or if you have any additional questions about our range of products, contact our team.
*these fire fighting units and equipment are not designed to fight large scale fires. Please ensure you follow advice from emergency services and your local rural fire service.*