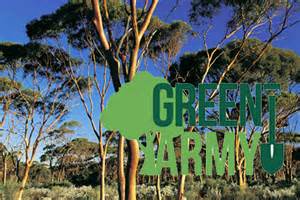 Following the success of the previous three rounds of the Australian Government's Green Army programme, the scheme is now seeking applications from willing participants to take part in the fourth round.
The Green Army is a 6-month programme for 17-24 year olds to train and work in the environment. Green Army projects include restoring native vegetation, heritage restoration, protecting animal habitats and regenerating wetlands in urban, rural and remote areas.
Community organisations, Land care groups, environment groups, Indigenous organisations, natural resource management organisations, local councils and others are encouraged to apply for projects in their region.
Following the assessment and approval of projects, successful project applicants become Project Hosts who will work together with an appointed Service Provider to deliver the project. Projects must be between 20-26 weeks and may involve activities such as restoring and protecting habitat, weeding, planting or cleaning up creeks and rivers.
Each project will receive a team of up to nine Green Army participants, a team supervisor and approved project consumables and materials, such as seedlings, herbicide, mulch, and project specific tools, in addition to the basic materials required to deliver a project. Cash funding will not be provided to Project Hosts
The Green Army Programme will cover costs associated with the team, such as participant allowances; supervisor wages; uniforms; safety gear and basic equipment such as hand tools; participant training; local transport costs; and participant insurances. Support may also be available for project consumables and non-basic materials as above, to an average value of $10,000 per project. Project Hosts will be required to cover any other costs to support the successful delivery of the project.
If you have an identified a need for environmental regeneration, clean-up or restoring natural vegetation, now is the time to find out more about the scheme and how you could possibly manage your own green army to help Australia's natural environment.
Applications are currently being sought with a deadline of the 14th of September in place for new participants and project proposals. Click here to find out more on the Green Army project.