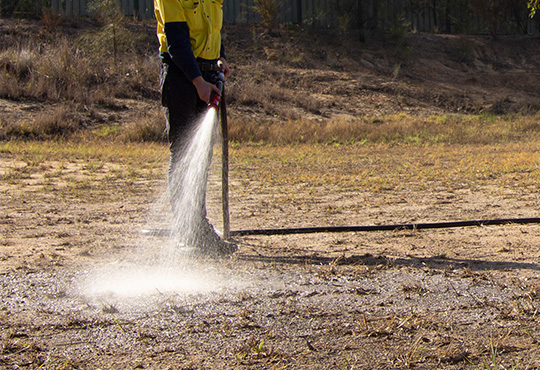 Not just for the preservation of the environment, but also used to eliminate the risk of large fines or legal proceedings, erosion and sediment control is becoming more and more paramount on construction sites or during civil works. That is why, Rapid Spray Engineering with it's dedicated Council, Construction and Civil product specialists recently launched the PolyMax range; a range of trailers and skid units designed for applying liquid polymer emulsions and flocculants.
WHAT ARE POLYMER EMULSIONS?
Polymer emulsions are high-tech bonding agents specifically engineered to bond soil particles together and maintain control over dust and prevent soil erosion for long periods of time.
Many mine sites, government bodies and civil contractors are beginning to see the benefits and water savings of using polymer based agents in applications such as:
Dust and erosion control on:

unsealed roads
haul roads
roadworks projects
civil works
landscape projects

Dust control on stockpiles
Erosion control on embankments around drainage watercourses
WHAT ARE FLOCCULATION AGENTS?
Flocculation agents (also known as flocking agents) are either liquid polymers or powder-based products designed to promote the clumping of suspended particles in waster water and run-off water. To protect natural water courses and to meet environmental requirements for site de-watering, flocculants are sprayed across sediment ponds to improve sedimentation and make suspended particles more filterable. This greatly improves the water clarity before it is discharged off the site.
Local councils and civil contractors are using flocculation in sediment ponds on sites such as:
Major civil and landscape projects
New land developments
Local waste facilities
The requirements to conserve water due to drought conditions and to preserve the natural water courses has continued to drive the adoption of these technologies.
EQUIPMENT STRUGGLES
Issues such as the sticky polymer clogging the pumps and the nozzles as well as the pump seals failing occur when equipment hasn't been designed specifically for polymer spraying. This becomes a constant struggle for many companies to find a way to reliably and efficiently apply the products.
It is for this reason, the Rapid Spray Engineering team have designed the dedicated PolyMax range. With many operators trying to use standard water delivery equipment in the past with disappointing and unreliable results, it was time to "give teams who don't have time to waste, equipment that won't waste time!"