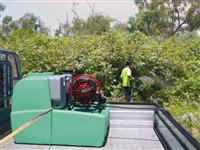 Regarded as one of the worst weeds in Australia and responsible for infestations of over 9 million hectares, Blackberry infestations can cover large areas of land with great speed.  The thorny woody weed can cause restricted access to water, smother native plants and compromise pastures resulting in significantly reduced productivity.
A weed of national significance, Blackberry has invades the banks of watercourses, roadsides, pastures, orchards, plantations, forests and bushland throughout Australia and has serious environmental and economical impacts. It hinders access to people and livestock to water, harbours pests and feral animals such as rabbits and foxes and dead plant materials present in Blackberry thickets can cause fire hazards.
Outbreaks of Blackberry infestations are common due to birds and small animals consuming the berries with the seeds being deposited some distance away. As Blackberry thickets can grow to several metres high very quickly, it is essential that blackberry is controlled quickly to avoid greater expense later.
Accessing areas of Blackberry infestations can be difficult to access due to the dense thorny thickets, in these situations it is best to clear an access route in order to access and spray the centre of the infestation. Once a route has been created, a compact and powerful sprayer with a long hose reel and powerful pump and motor is the best equipment to use to ensure complete foliar coverage.
The Buddy Q is an all-in-one self-contained spray unit featuring the new Buddy Remote Control Auto Reel. The sleek and lightweight design makes it the ideal solution for mounting on ute trays and UTV's. Affordability, comfort and ease of use are what really set this sleek and compact unit apart from the rest of the current offerings to the spray market. 
Eliminating the frustration and exertion of snagged or tangled hose and hard to wind up manual hose reels – the Buddy™ Remote Control Reel comes complete with a smooth 2 speed remote control rewind action for 37% faster spraying compared to hand wind reels – perfect for spraying large infestations of Blackberry. Click here to find out more on the Buddy Q spray unit.
Spot spraying blackberry is also an essential part of an integrated weed management program. Blackberry spot spraying (also known as hand applied foliar spraying) offers effective control of smaller blackberry plants and seedlings. Ensure you spray the whole blackberry bush including any runners. For the best results, spray to thoroughly wet all plant foliage and canes.
Avoid using foliar applied herbicides when blackberries are moisture stressed or have been heavily grazed at the time of application. After slashing, burning or grazing spray the blackberry regrowth when runners are at least 1 metre long with sufficient leaf area to absorb herbicide.
Blackberry can be sprayed any time after the bush commences flowering if it is actively flowering.
For further information on suitable Blackberry management and control spray equipment, click here or call 1800 000 011 to speak to an experienced member of the Rapid Spray team.