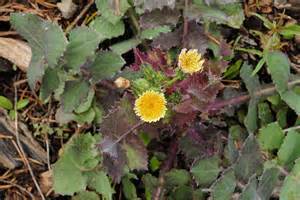 Sow Thistle is a common sight in gardens, roadsides and pastures throughout Australia. It also invades crops, horticultural and disturbed areas and causes competition for light and space for native plants. Sow Thistle plants that are affected by certain species of aphids may, in some cases, cause photosensitivity in cattle and grazing livestock.
Preferring damp areas, Sow Thistle is a hardy weed capable of flourishing is a wide variety of soil types and light conditions.
Sow Thistle is easily identifiable from its erect, hairless stem capable of reaching up to a metre in height. Leaves are soft, lobed and green in colour and the flower is bright yellow and thistle-like in appearance. The stems are hollow and produce a white, milky sap when broken and tiny fruits produced which are short, flat and topped by a tuft of fine, soft bristles.
Flowering for much of the year, Sow Thistle sees much of its growth occurring in spring and early summer.
Controlling small outbreaks of Sow Thistle is relative straight forward and plants can be removed manually by hand. For larger infestations in pastures and paddocks, it may be necessary to use an engine driven spot sprayer to ensure total coverage of all plants.
Sow Thistle weeds are hard to wet, therefore a wetting agent should be used prior to applying the herbicide to ensure an effective kill. Revisit the area you have targeted between 3 to 7 days after applying the herbicide to check for any weeds that may have been missed on the first application and repeat if necessary.
Where several plants are present or you have a large area to cover, Spray Marshal Plus + spray units from Rapid Spray are an excellent solution to eradicating Sow Thistle quickly and easily. Complete with a genuine Honda GX35 4 stroke motor for proven reliability coupled to the Rapid Commando pump delivering 12 litre/minute maximum flow & 25 Bar (360psi) pressure, this unit is ideal for quickly covering large infestations of weeds. This compact unit is available in both 200 and 400 litre tanks sizes and comes complete with easy-grip handles built into the spray tank make lifting & moving the unit from vehicle to vehicle quick and easy.
For further information on the Spray Marshal Plus + spray unit, click here to find out more or call Rapid Spray today on 1800 011 000