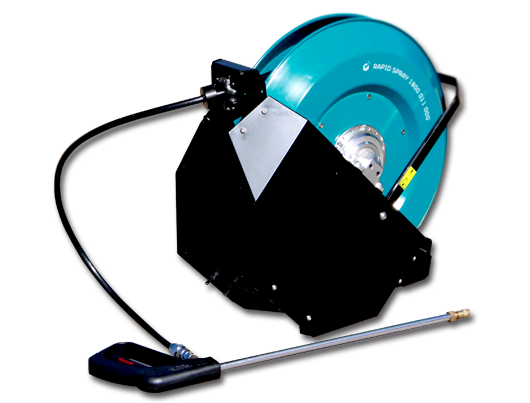 The latest innovation in spray hose reel technology has taken the spraying industry by storm as it is set to be the fastest selling new product in the history of the company!
Rapid Spray's Buddy® Reel was developed as the solution to the tiresome job of the old manual-rewind hose reel, and thanks to its variable speed remote controlled auto-rewind technology, and its lightweight and sleek design, the Buddy® has been a 'reel' hit amongst landscaping and weed suppression professionals Australia wide.
The Buddy® Reel boasts the unique 'My Pace™' function that enables the user to set the custom rewind speed that suits them. Incorporated into the design of the Buddy® Reel is the understanding that everyone works at their own pace, depending on energy levels, terrain and weather.
Daniel Firth, the Design Engineer behind the Buddy® Reel, says the unit has been engineered specifically to make the tedious task of spraying easier and faster.
For those of you that are yet to see the Buddy® in action, click the video below to see for yourself just how easy spraying could be with this new and exciting piece of equipment from Rapid Spray.
If you want to find out more about the future of spray reel technology that the Buddy® auto rewind reel has to offer, call 1800 011 000 or click here for more information.