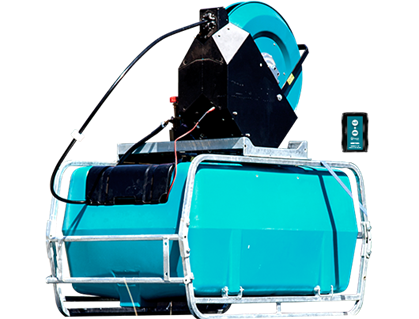 Spring is upon us once again and along with the milder temperatures and sunnier days comes an unwelcome invader – spring weeds.
With local councils responsible for thousands of kilometres of roads sides, public parks and open recreational spaces, the fight against the emerging spring weeds means that valuable time and resources must be spent to ensure that new growth of undesirable plant species doesn't get out of hand and become a full-blown infestation.
With only a limited amount of time and manpower to keep on top of the spring weeds problem, it is essential that council employees are fully equipped with reliable and innovative spray equipment that enables them to carry out all weed suppression tasks quickly and easily.
The Buddy Q spray unit range from Rapid Spray features the latest in remote control auto rewind reel technology, allowing operators to move on to the next task with minimal fuss without having to untangle and manual rewind hose reels – making spraying up to 33% faster than manual hose reel units.
The Buddy Q spray unit also offers adjustable spray pressure with a pressure regulator and gauge that delivers a more economical weed kill through reduced chemical use – saving valuable herbicide and money when tackling spring weeds.
Also equipped with a hot dipped galvanised steel frame for easy manoeuvrability and durability, a UV stabilised poly tank complete with a 10-year warranty and a quality 12 volt 7.5 litres/min 100 psi Delevan pump, the Buddy Q is the perfect spray solution for time poor operators seeking a reliable and fast spray unit.
The PowerJet spray gun with adjustable nozzle offers a selection of spray patterns for targeting a variety of weeds, burrs, thistles, woody weeds and more plus can be easily mounted upon UTV's and utes. The Buddy Q is also incredibly quiet, making it the ideal choice when spraying weeds in built up residential areas.
Click the image below to see this super quiet and effective spray unit in action.
To find out more on the Buddy Q spray unit and discover how it can help save you time and money in the fight against spring weeds, call Rapid Spray on 1800 011 000 and speak to a member of the team.