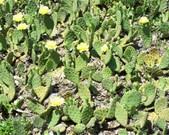 How a contractor will approach weed management is becoming an increasingly common element of the Australian tendering process as the Australian government focuses upon the risk of noxious and unwanted weeds when carrying out maintenance and new construction projects.
In order to protect Australia's natural environment against the further spread of invasive weeds, tender documentation now often requests in-depth details of how the construction firm applying for the work will set about identifying and dealing with weeds on site with the main focus being containment and suppression to prevent further spread.
Weeds are commonplace on a variety of sites, especially where ground has been disturbed and weeds have been allowed to continue to grow unchallenged. That, twinned with the heavy machinery passing through areas where weeds are present, can lead to further spread and contamination of equipment which can then be utilised on different sites where seeds and plant fragments can fall to the ground and begin a new infestation.
Typically, the suppression and containment of weeds and construction sites has not being the number one focus for construction firms when creating tender applications, but a strict procedure for effectively dealing with weeds is becoming increasingly important to government bodies and private developers when seeking construction organisations to carry out the works.
The ability to give details on the process and equipment used puts construction firms in good stead when making such applications, and many contractors are investing in robust and reliable weed suppression units to help them tackle the issue of weeds on site.
Rapid Spray has assisted many contractors with their weed suppression needs by providing them with innovative and hard wearing weed suppression units to suppress outbreaks and infestations quickly and easily – allowing them to get back to the task at hand.
The Buddy Q spray unit range features the latest in remote control auto rewind reel technology, allowing operators to move on to the next task with minimal fuss without having to untangle and manual rewind hose reels – making spraying up to 33% faster than manual hose reel units.
The Buddy Q spray unit also offers adjustable spray pressure with a pressure regulator and gauge that delivers a more economical weed kill through reduced chemical use – saving valuable herbicide and money when tackling spring weeds.
Also equipped with a hot dipped galvanised steel frame for easy manoeuvrability and durability, a UV stabilised poly tank complete with a 10 year warranty and a quality 12 volt 7.5 litres/min 100 psi Delevan pump, the Buddy Q is the perfect spray solution for time poor operators seeking a reliable and fast spray unit.
The PowerJet spray gun with adjustable nozzle offers a selection of spray patterns for targeting a variety of weeds, burrs, thistles, woody weeds and more plus can be easily mounted upon UTV's and utes. The Buddy Q is also incredibly quiet, making it the ideal choice when spraying weeds in built up residential areas.
Click the image below to see this super quiet and effective spray unit in action.
To find out more on the Buddy Q spray unit and discover how it can help supress weeds on site quickly, click here or call Rapid Spray on 1800 011 000 and speak to a member of the team.