Fire Fighting Trailers
Road Registerable Fire Fighting Trailers
Rapid Spray trailers are considered the industry standard with proven engineered designs, best in industry warranties, quality Australian materials and components and are a long term investment with many trailers still in service 20 + years later!
Available sizes
1,200 - 1,200L
ALl in one pacakge
The Fire Marshal Trailer is your ready-to-go firefighting trailer option. Complete with pump and motor, fire hose reel and nozzle, bottom fill kit, fully baffled cartage tank all mounted on galvanised chassis, the Fire Marshal has all you need to attack that fire!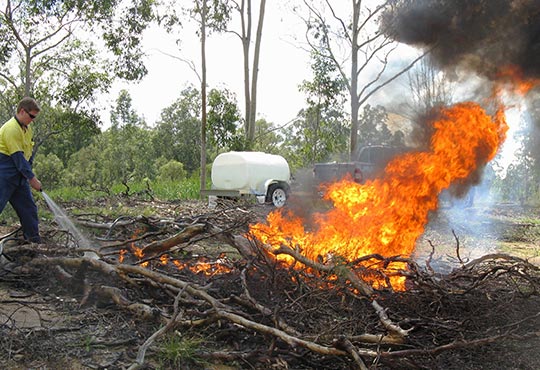 ADR Compliant
Hydraulic brakes are standard on Fire Marshal Trailers. The 1000L trailers have a single axle whilst the 1200L Fire Marshal is a dual axle trailer all compliant with ADR.
Made in Australia
Manufactured in Australia, the Fire Marshal features quality components including Australian made chassis with 5-year warranty, heavy duty poly cartage tank fully baffled with the Ball Baffle system – 15-year tank warranty, 1 1/2inch pump coupled to Genuine Honda motor with 3-year warranty, tough poly hose reel with 36m of 19mm AS1221 rated fire hose.
Ready for action
Fire Ranger Trailers come complete with all you need to attack that fire! Featuring the 2 inch Aussie FireChief Pump coupled to reliable Honda Engine, poly hose reel and adjustable firefighting nozzle, 15 inch Landcruiser wheels and 6ply radial tyres, chequer plate mud guards with rolled edge, fully hot dip galvanised steel chassis and a tough poly tank fully baffled with the Ball Baffle system for maximum safety and stability – check out the video proving the effectiveness of the Ball Baffle System.
Not just a fire fighter!
Turn your Fire Ranger Trailer into a multi-purpose trailer with the many optional kits and accessories we have to offer including deflector spray kits for dust suppression, dribble bar for the road maintenance crews, high and low pressure wash kits for cleaning and water cannons for landscaping and tree watering.
Mine Spec
Rapid Spray is capable of building trailers to full MDG15 mine specifications with our in-house approved assessors ready to discuss your requirements. Diesel engines with E-stops, padlock battery isolation switch, Oz-Chock poly wheel chocks, flashing amber beacons, reflective lime yellow clearance tape and fire extinguishers are just some of the standard upgrades available for your mine spec trailer.
Road Registerable Fire Fighting Trailers
Showing 1-2 of 2 results
Subscribe Today!
All the latest offers, directly to your inbox!
PROUDLY AUSTRALIAN MADE!
*Made from Australian and Imported Componentry