Hose Reels & Parts
Buddy Remote Controlled Hose Reels & Parts
The Buddy Smart Reel is your 'tangle proof' solution to spraying the most stubborn weeds in the trickiest of places.
Featuring a four-roller hose guide for smooth free running hose, a 'My Pace' auto-rewind remote with 2km radius and an impressive 3-year warranty, its the Buddy that's always got your back!
It's Smart!
The Buddy Smart reel features a digital display which allows the operator to read codes for radio gear and power supply, diagnosis and troubleshooting. Some of the Buddy's Smart features include:
Easy hose management system: compensates for increasing walking speed as spool builds up allowing the operator to walk at an even pace
Close-To-Home slow down: winding speed slows down as you approach the spray unit to prevent injury
Free spool tension adjustment: allows you to adjust the tension when pulling the reel out whilst prevents excess hose from unwinding.
Lightweight & Compact
Now you can carry more on your UTV with thanks to the lightweight and compact Buddy Smart Reel! The 150m Buddy only weighs 35kg, and the 30m weighs 21kg allowing you to have a larger capacity sprayer on board saving time spent coming back and refilling your sprayer.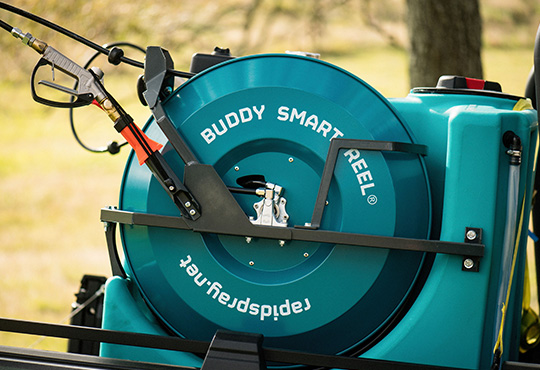 Maintenance free
No belts, chains or pulleys? No need with the Buddy Smart reel! Direct drive brushless DC motor means you have zero maintenance, gives you more torque at lower speeds and is more reliable.
No aerials required with the Buddy Smart Reel as all radio gear is built into the reel and has a 2km line-of-sight range!
Designed and made in Australia, we back our Buddy Reels with a 3-year warranty giving you peace of mind.
| Code | Description | Dimensions (mm) | Weight |
| --- | --- | --- | --- |
| ATHB050M10 | 50M Buddy Smart Reel | 525 (L) x 238 (W) x 535 (H) | 23kg |
| ATHB100M10 | 100M Buddy Smart Reel | 705 (L) x 272 (W) x 705 (H) | 30kg |
| ATHB150M10 | 150M Buddy Smart Reel | 705 (L) x 272 (W) x 705 (H) | 35kg |
Scroll horizontally to view more
Subscribe Today!
All the latest offers, directly to your inbox!
PROUDLY AUSTRALIAN MADE!
*Made from Australian and Imported Componentry