Hand & Backpack Sprayers
Jacto Compression & Industrial Sprayers
"Never abandon a customer who is using our equipment" (Mr Shunji Nishimura, founder of Jacto)
Jacto, a manufacturing company in Brazil, is known world wide for their robust and reliable sprayers for domestic, commercial & industrial spraying. Mr. Nishimura named this company Jacto, and became known for always taking the best care of his customers. Today, Jacto continues the philosophy of their founder; producing high quality backpack and compression sprayers from the best available modern materials.
Rapid Spray are proud to be the exclusive distributor of Jacto Backpack & Compression sprayers in Australia.
Backpack & compression sprayers
Keep your property clean and green with the easy to use hand-held compression sprayer & the 12 litre backpack sprayer. The 12L backpack sprayer features a slimline tank, ergonomically designed to keep the weight close to your back making this one of the most comfortable backpack sprayers on the market.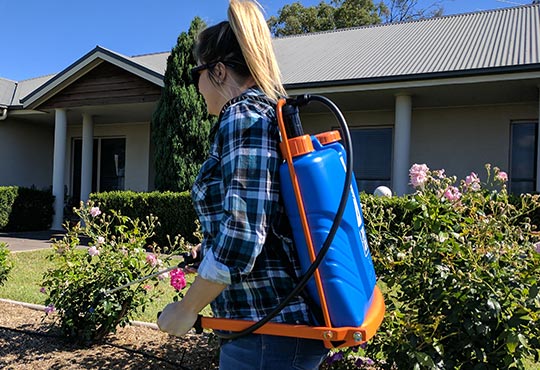 Industrial Sprayer
Jacto's popular HD400 16L Industrial Sprayer has an internal mechanical agitator that does an excellent job of keeping powdered chemicals in suspension.
The HD400 was independently tested for more than 1,500 continuous hours of operation with no breakdowns and the Jacto HD400 is easily converted for either right-hand or left-hand operation.
Fully equipped with viton seals, the HD400 is ideal for users who will be spraying aggressive chemicals.
A brand you can trust
Have confidence in knowing your Jacto Sprayer is exactly what you need with Rapid Spray offering;
3 Year warranty on all models
30-day "No Questions Asked" money back guarantee*
Full support and back-up here in Australia with our dealers & Head Office in NSW
*When purchased from a registered dealer & product is registered within 7 days of purchase
sprayer
size range
ideal uses
Downloads
Compression Sprayer
5 Litre
Home gardening, professional spraying & landscape maintenance

Specifications

(2,872KB)

Backpack Sprayer
12 Litre
Home gardening, professional spraying & landscape maintenance

Specifications

(1,959KB)

Industrial Sprayer
16 Litre
Professional spraying, landscape maintenance, Industrial cleaning, wallpaper stripping, truck wash

Specifications

(903KB)
Scroll horizontally to view more
Jacto Compression & Industrial Sprayers
Showing 1-5 of 5 results
Subscribe Today!
All the latest offers, directly to your inbox!