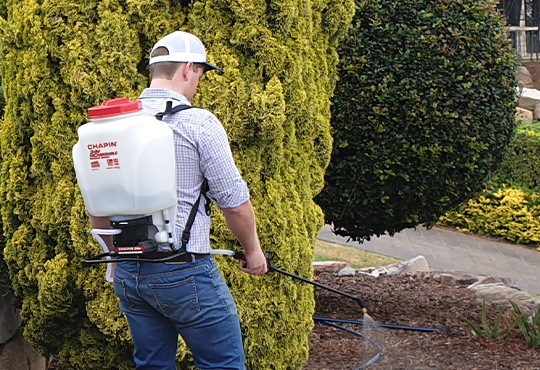 From backpack, UTV to tow-behind spot sprayers, there are an endless variety of sprayers available to you. Used to efficiently spray liquids such as water, herbicides, pesticides and fertilisers, these sprayers have become an essential tool in agriculture for weed control, animal or tree-watering, unit washdown and even spot fire control.
Despite the diversity of these products, all sprayers share principal components that help spray the liquid fast and evenly. Key elements include the spray nozzle, liquid tank, sprayer pump and pressure regulator. However, due to the variety of conditions that require a sprayer, the assortment of products is distinct, with each model suited to a particular task.
BACKPACK / HANDHELD SPRAYERS
By far one of the most popular sprayers categories, hand held and backpack sprayers are used in both private homes, hobby farms, commercial spaces as well as certain industrial / construction environments. They can be perfect for smaller spaces such as herb gardens to larger, vegetable gardens and orchards.
Lightweight, easy to use design, and straight forward operation, makes hand held and backpack sprayers are the best sprayer for those for a range of applications in an around your home or office: fertilizer application, pest and weed control, cleaning and disinfecting, and spraying paints and stains.
However, as with all fertilizer / herbicides / poison applicators, caution is advised as due to your close proximity to the sprayer,  exposure to harmful chemicals is a high risk.
---

THE COMPLETE RANGE FOR ALL USES

HANDHELD & BACKPACK SPAYER

For the home gardeners and the professional garden maintenance contractors, our Backpack & hand pump Sprayer range offers small hand-held sprayers to medium sized knapsack sprayers.

---
TOW-BEHIND SPRAYERS
A tow-behind sprayer is as the name suggests – a sprayer which has been mounted to a trailer and is towed behind a moving vehicle such as site-down lawn mower or a quad bike. Tow-behind sprayers can be used in multiple ways; as a spot sprayer or as a boom sprayer which helps with the larger dispersion of fertilizer or herbicides over a greater area. This type of sprayer is perfect for large lawns or garden spaces.
Our range of tow-behind sprayers includes the RapidLine, RapidMix, Spot Ranger and FarmMax series.
DISINFECTANT SPRAYERS
This model of sprayer is very specific, designed to be used to disinfect surfaces with a fine mist spray. Handled in public and high traffic areas, this disinfectant sprayers are utilitised to reduce the risk of virus and/or bacteria spread. Disinfectant sprayers are typically used by contractors or councils and are ideal for cleaning spaces such as
shopping centres
offices
parks
school zones
public toilets
Using a fine mist spray to finely disperse cleaning chemicals, the Rapid Spray disinfectant sprayers are ideal for cleaning walls, floors, tables and benches. Using a mixture of high pressure spraying, years of dirt and dust build up can be removed easily, followed by a low pressure fine mist to cut through the germs.
Disinfectant sprayers have been particularly popular due to COVID-19, which has led to constant cleaning and sanitising of public spaces, which is an essential task in maintaining a space environment.
UTV SPRAYERS
Our most popular series of sprayers, our UTV sprayer range has been designed to slide into the back of a UTV, side by side or gator while meeting all vehicle restrictions and safety guides. Not only made compact to easily fit into the tray, depending on the size of the tray, most of our UTV sprayer range such as the Marshal series leaves plenty of room for other items such a chemical drums or other equipment.
UTV's are made to go anywhere your ute or other farm equipment can't and the compact, low profile sprayers are ideal for that – designed for powerful spraying while experiencing the toughest of terrains. Primarily used for spot spraying weeds such as woody weed infestations, high performance UTV sprayers such as the Marshal Pro and SprayScout 360 models can be used for boom spraying when covering a larger area quickly is needed.
To find out more about the 6 Things to Look For When Considering a UTV Sprayer, read this blog here.
Our most popular UTV sprayers are the Marshal Series and the SprayScout series.
---

COMPACT. POWERFUL. GO ANYWHERE

MARSHAL SERIES

Our UTV sprayer units are compact and designed to give you the go-anywhere mobility you need for the ultimate weed control. Our UTV sprayers are your first line of defence against weeds.

---
FIELD SPRAYERS
Field Sprayers such as the Ultimate Field Sprayer are usually significantly larger units that the small compact UTV sprayers. Designed to cover larger areas or heavy infestations of weeds, while also having the capacity for large scale boom spraying.
Field Sprayers can range ute tray sized unit to the more compact SprayScout 600 or if you need to conserve the space in the back of your vehicle, trailer sprayers such as the GreenMax and Puma sprayers are ideal for larger scale field spraying.
LINKAGE SPRAYERS
Linkage sprayers are designed for spraying on the back of a tractor over a large area such as a cropping field. Our compact linkage sprayer, the FieldLink has been designed compact with a contoured tank design to minimise the centre of gravity and increase the stability of the tractor and sprayer. Tackling rough terrain and widespread regions with ease, with the FieldLink maintaining an even and rapid amount of liquid for long periods.
Linkage sprayers such as the FieldLink are usually attached to a boom for widespread spraying up to at least 10m, however hose reels such as the Buddy Smart Reel can be mounted also for spot spraying when needed.
---

TAKE BACK SPRAYING

THE FIELDLINK

For the home gardeners and the professional garden maintenance contractors, our Backpack & hand pump Sprayer range offers small hand-held sprayers to medium sized knapsack sprayers.

---
Hopefully, this list has given you a better understanding of the different sprayers available. If you would like any more information on upgrading your spraying equipment or have any questions regarding another topic, please contact us on our website and our professional team at Rapid Spray will be more than happy to assist you.