Diesel Refuelling
Adblue Units
AdBlue also known as diesel exhaust fluid (DEF) is an emissions reducing liquid that is used on modern diesel engines.
Because AdBlue is highly corrosive, Rapid Spray uses only chemical grade poly tanks and compatible stainless steel pumping equipment.
If you need a portable tank solution for getting AdBlue to your trucks or machinery, we have the solution for you.
Available sizes
100 - 400L
Rapid Blue Units
Rapid Spray's Rapid Blue units are manufactured from Urea grade polyethylene for diesel exhaust fluid compatibility. Complete with stainless steel vane pumps & stainless steel auto-shut-off nozzles, the Rapid Blue unit is a compact all-in-one Adblue dispensing unit.
AUSblue use Rapid Blue tanks
AUSblue – one of Australia's largest Adblue Transport companies use Rapid Spray tanks for transporting Adblue around the country.
In this video Pat Maguire of AUSblue tells us why he has chosen to use Rapid Spray's Rapid Blue Tanks
Stainless steel vane pumps
Did you know vane pumps clog less, have higher flow rates & are easier to maintain than diaphragm pumps? Thats why we use the Svelto Blue all stainless steel pump with internal bypass for durability & ease of use.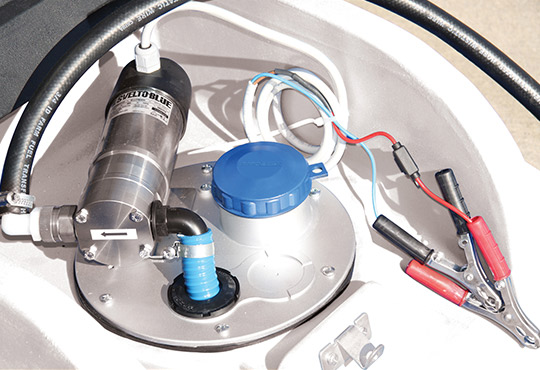 | Tank Capacity | Style | Dimensions (mm) |
| --- | --- | --- |
| 100L | Compact | 800 (L) x 680 (W) x 465 (H) |
| 200L | Squat | 800 (L) x 680 (W) x 710 (H) |
| 200L | Low Profile | 1150 (L) x 820 (W) x 565 (H) |
| 300L | Slimline | 1290 (L) x 600 (W) x 770 (H) |
| 400L | Squat | 1150 (L) x 820 (W) x 780 (H) |
| 400L | Slimline | 1290 (L) x 600 (W) x 965 (H) |
Scroll horizontally to view more
Subscribe Today!
All the latest offers, directly to your inbox!
PROUDLY AUSTRALIAN MADE!
*Made from Australian and Imported Componentry